Have you ever wondered what a job would be like before you start? You put in a lot of research during your job-hunting process. You ask yourself questions like:
Is the location right?
What are the hours?
What is the salary?
How many holidays do you get off?
How much PTO?
A question candidates likely forget to ask is "What is a typical day like for my position?" Ethos Group wants to show you what a typical day looks like from the eyes of our current IT employees. We asked employees to walk us through a normal day so you can understand what it's really like working at Ethos Group.

Work Time Flexibility at Ethos Group
Ethos Group provides a flexible working environment for employees. "Every morning, we have a short team meeting to keep each member accountable and to remove any blockers on our current projects," states Lauren. Once morning meetings wrap up, teams disperse and tackle their individual tasks and work together if problems arise.

What Do Ethos Group IT Employees Work On? 
Here's a list of what some of our IT employees work on each day: 
David: All of our tasks are laid out on a board and I get to pick what makes the most sense for me to do. I can pick a front end task using Angular4, Typescript, and a bit of ASP.NET and Web API, or work on our C# services learning about Entity Framework and .NET Core.
Travis: I administer the databases at Ethos Group. I make SQL Server more reliable, secure, available, and faster. I provide solutions for problems in the world of the database.
Lauren: I am a report and dashboard developer. So far, I am converting reports from an old system into our new system using SSRS. We are also in the process of incorporating Power BI into some internal systems.
Evan: I have the unique opportunity on the Process Team to work on a bunch of different projects. I meet with internal employees and leverage software in order to speed up the manual processes that the company has in place and try to eliminate a lot of that.
Ethos Group offers unique positions suited towards a wide variety of experience and talents.

Ethos Group Culture
When you choose a company to work at, you want to make sure the culture is fun and supportive. Check out what our employees have to say about Ethos Group culture:
My favorite part about working here is the culture and attitude surrounding my co-workers. Everyone has been very friendly to me and has treated me very well since I've joined on.
My favorite part of working at Ethos Group is the culture. Your coworkers become your friends. I have several coworkers that I play tennis with after work. There are also several of us that go on daily walks together.
There is often free food around somewhere in the company. Its arrival usually encourages people from the department to grab a plate and cram into a conference room to shoot the breeze for 20 minutes or so.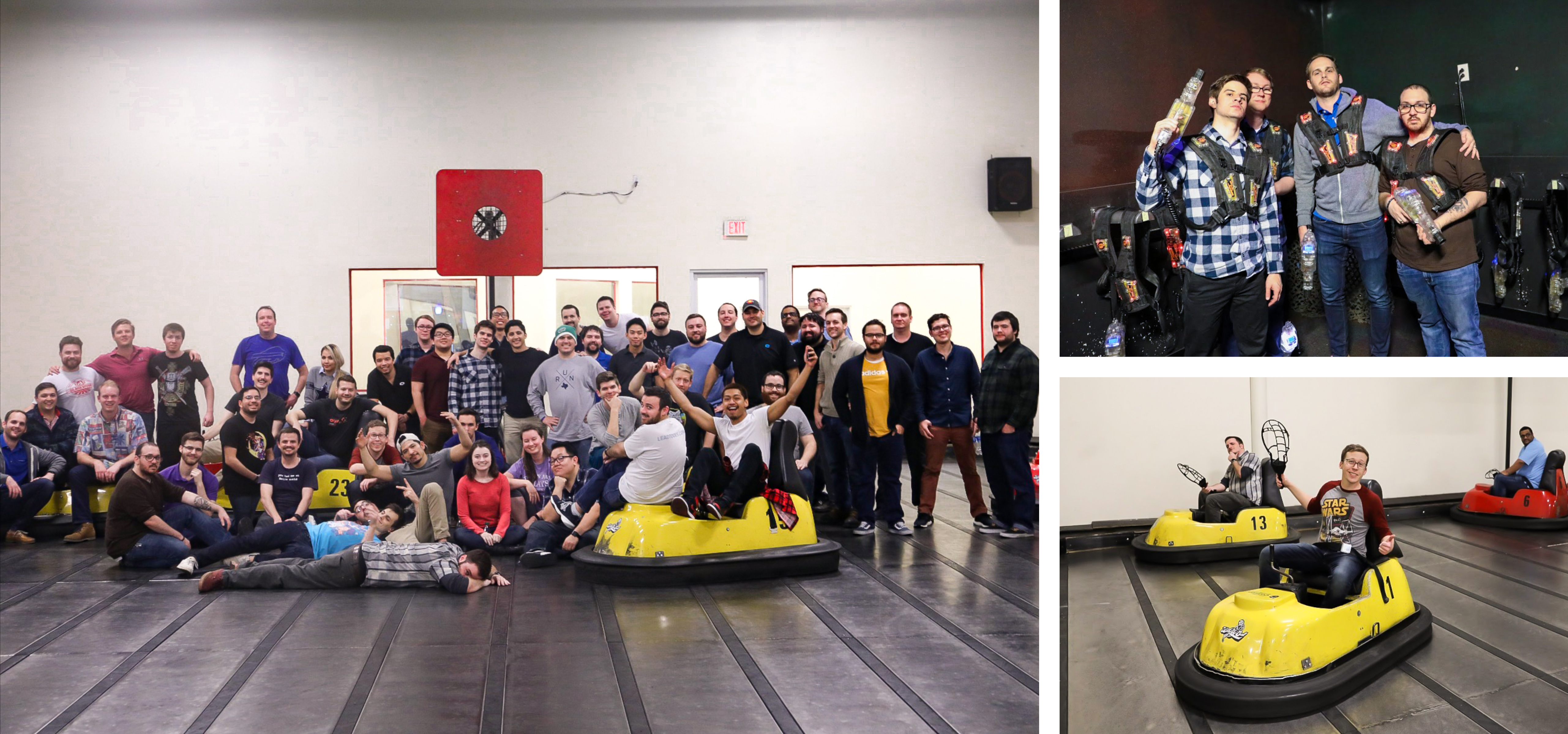 Ethos Group Team Outings
Ethos Group plans semi-annual outings for employees – one during summer and one over winter. Locations and venues change over the years. Past events include bowling, Whirlyball, laser tag, arcade games, concerts, etc.
Ethos Group provides ways for team members to bond and get together outside of work to show off their competitive side and have some fun!

Get to Know Them Outside of Work
We've compiled a list of things our employees like to do outside of the office. Activities range from:
Binge watching shows on Netflix or HBO including Game of Thrones and Grey's Anatomy
Taking the boat out on the lake and fishing
Play sports, including tennis, kickball, ultimate frisbee, or go rock climbing
Watching ESPN or sports on TV
Get together for Board Game Night (don't forget your Nintendo Switch)
Play games online, ranging from Player Unknown Battlegrounds TM to Rocket League
Department events like Spring Fling where we spend a day out by the lake, or the Christmas Party with Whirlyball, Laser Tag, and more!

Working at Ethos Group 
While this doesn't highlight every aspect of working at Ethos Group, we hope you have a better understanding of a day in the life of an Ethos Group IT employee.

Check out all current job postings.
Read more stories from Ethos Group.