At Ethos Group, we empower our employees to "carry a Message to Garcia." This means we encourage our employees to take initiative. This phrase comes from a short story our new employees receive during our onboarding process, A Message to Garcia by Elbert Hubbard.
What is initiative? Hubbard defines it as doing the right thing without being told.
In the book, a man was sent on a mission to carry a message to General Garcia. When given the letter, he completed the mission without being told what to do. He did not ask why he was supposed to deliver the letter, or where General Garcia was, or when the letter should be delivered by. He simply figured it out on his own and accomplished the mission.
This message is important to Ethos Group because we believe for each position we have hired the right person, at the right place, at the right time to leverage their strengths for the good of their team. It is a common saying in our office that "no one person has all the good ideas." By taking initiative, our employees are able to use their strengths to help us work towards our common vision of being the best in the world at what we do.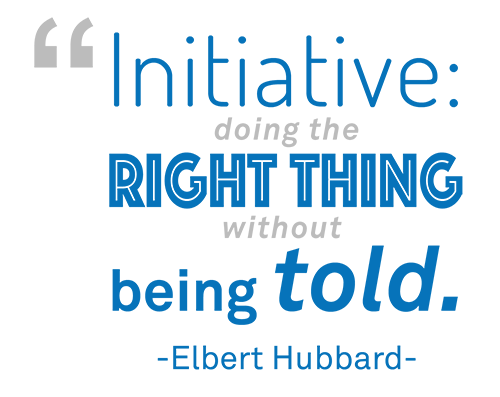 Here are some quotes related to initiative that Ethos Group employees have found inspirational:
"Folks who never do any more than they get paid for, never get paid for any more than they do." -Elbert Hubbard
"They always say time changes things, but you actually have to change them yourself." -Andy Warhol
"It will never rain roses: when we want to have more roses, we must plant more roses." -George Elliot
"The best way to predict the future is to create it." -Abraham Lincoln
"With innovation and initiative we have the potential to change the world for the better." -Sameh Elsayed
"The most difficult thing about writing; is writing the first line." -Amit Kalantri
"Without initiative, leaders are simply workers in leadership positions." -Bo Bennett



Read more stories from Ethos Group.