Dealerships rely on Ethos Group Compliance Solutions (EGCS) for human resource, consumer privacy and safety compliance. EGCS works with dealerships to identify compliance vulnerabilities that pose a business risk and crafts innovative solutions that help protect the business and its employees. Our team of HR, Compliance and Safety experts serve to supplement our client dealership's staff with both web-based and in-person education, training and audits. This gives our clients access to unique resources without adding to their employee overhead and has proven to significantly reduce their exposure to risk in today's regulatory environment.
Other components of our compliance program include: development of an online employee handbook, new hire resources, dispute resolution resources, online forms and a toll-free employee hotline.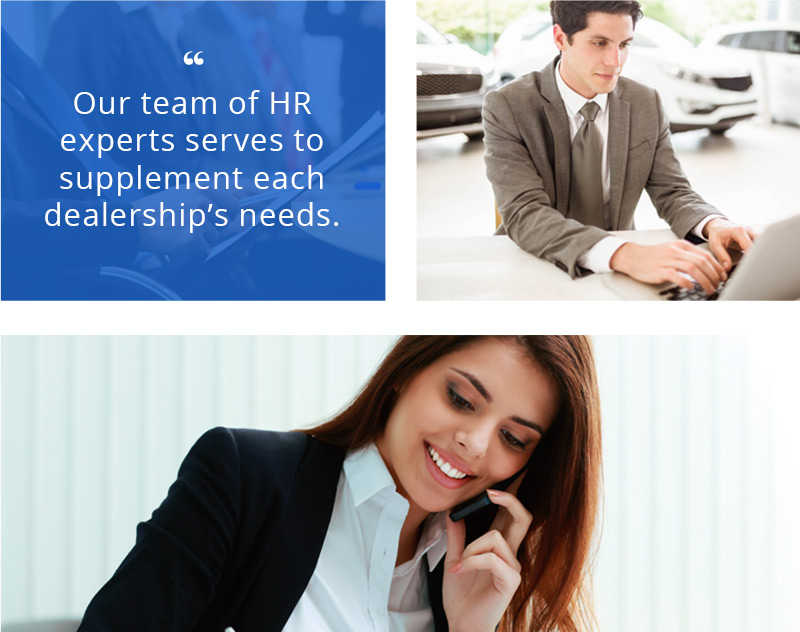 Hotline
Our toll-free hotline provides unlimited support for dealers, management and employees to speak with an expert that facilitates resolving issues that may exist in the areas of human resource, compliance and safety.
Human Resource Support
EGCS works directly with the dealer and their management team to create policies and procedures that protect the business from unnecessary exposure to risk. Our on-site and online training educates each employee on the importance of following company policies. Our on-site audits serve as a follow-up and provide a level of communication and accountability for our clients.
Online industry education and job-specific training for dealership employees
Reporting tools that enable management to effectively oversee educational training material
Continuous development and adaptation of dealership policies to ensure they are compliant with federal and state laws and regulations
Privacy Compliance Support
EGCS conducts detailed risk assessments and proactively creates a written program of dealership policies and procedures with the store's leadership. We provide unlimited access to online training and follow-up with on-site educational classes and periodical audits that help facilitate corrective action. Our program has proven effective at eliminating or reducing the risks related to identity theft and the sharing of private information, adhering to the Gramm-Leach-Bliley Act and current red flags and privacy rules.
Safety Support
EGCS educates dealership personnel on OSHA safety and hazard regulations and ensures compliance through periodical inspections. Our safety auditors inspect the dealership and hold post-audit meetings with management to identify safety hazards and compliance violations. We go beyond the inspection to provide management with the resources to develop a plan of action that reduces the business's exposure to risk.
Safety module with safety trainings
On-site safety audits to ensure that all policies identified in the dealership training are being followed by all employees
EGCS inspection and audit of operations